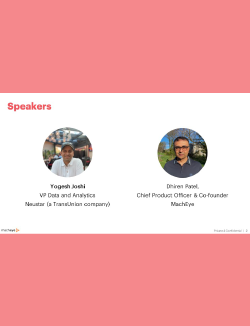 Adding analytics to your business apps can be a daunting development project. At the speed of today's business, traditional development approaches simply take too long.
Products with embedded search deliver superior user engagement and business value by doing offering analytics for every user. Deliver a context-relevant insight in real time by taking a user-first approach to all your users.
Learn how MachEye is helping companies like Neustar (a TransUnion company) to natively integrate analytics with their automated data pipelines and cloud platforms to deliver a blazing-fast and instantly available natural search experience across all the data that business users love. It's time to replace static dashboards with a modern and intuitive search experience that keeps business users coming back for more.
Here's everything you will to learn about building engaging analytic experiences for your customers:
What is embedded search
How to differentiate your current data app with embedded search
How does the embedded search increase user engagement
How does the embedded search lower your cost of operations
Why Neustar chose MachEye for its integrated platform of "Clean Room"
Duration: 30min
Designed for developers
Powerful and easy-to-use APIs for data consumption
Break free from the limitations of charts! It's easy to share your data insights with internal or external customers and transform their decision intelligence. Our APIs and SDKs simplify the integration of intelligent search into JavaScript, Java, and Python-based applications.