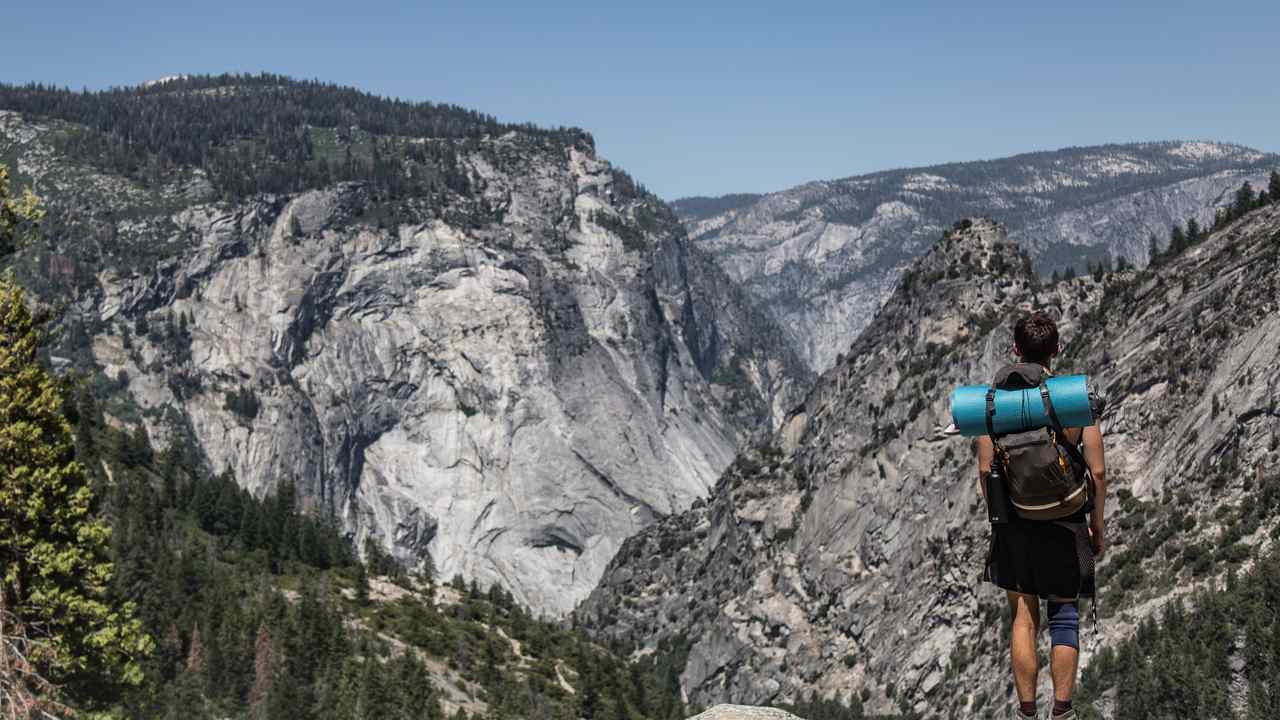 How Backpacking at National Parks Increased 200% due to COVID-19
by Gopikrishna Putti, Member Technical Staff
How Backpacking at National Parks Increased 200% due to COVID-19
by Gopikrishna Putti, Member Technical Staff
National park visitors plummeted by 56% last year due to COVID-19. However, backpacker numbers in Q4 2020 actually doubled compared to 2019. How else did national park visits change during the pandemic?
Lockdowns and travel bans forced almost everyone to shelter in place for the majority of 2020. Almost every aspect of our lives was impacted – where we eat, how we work, and how we travel. The sudden change in preferences and behaviors will continue in the near future and also affects our lives after the pandemic. So it becomes essential to analyze these changes to plan future operations... even for national parks.
The number of visitors visiting national parks in 2020 declined due to COVID-19 lockdowns. However, MachEye's analysis of public data provided by the National Park Service (NPS) produced many surprising insights that traditional BI solutions would have missed.
We explored NPS data on park visitors and campers across the top 25 national parks in the United States. Using MachEye, we asked the following simple query to the NPS data:
"Visitors at top 25 national parks"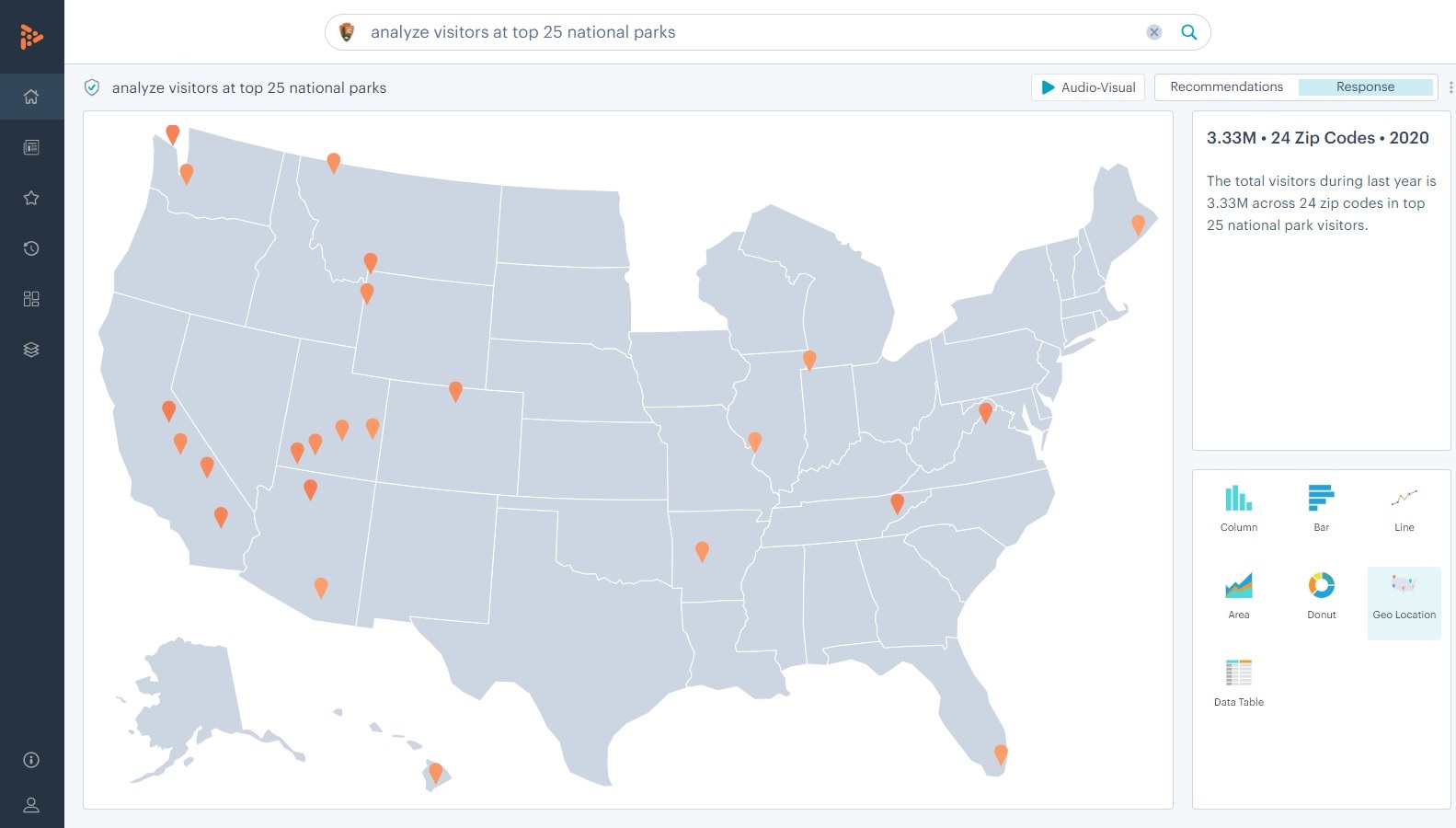 In its response, MachEye went beyond the obvious answer to identify granular insights on growth rate, seasonality, anomalies, and trends across dimensions like regions, national parks, visitor types, and time periods. To present these insights, MachEye automatically generated the following interactive audio-visual that can be paused and drilled down to view detailed figures.
Here are the details of the click-less insights as extracted and presented by MachEye.
Dramatic drop in yearly visitors
2020 saw the most dramatic plunge in yearly visitors in the past 21 years. A whopping 56% drop in visitors was noted during 2020. National parks received only 3.24M visitors in 2020, compared to 7.35M yearly average in prior years.
Least impact on backpacking
Though visitor numbers declined throughout 2020, backpackers were the least impacted. Out of all types of campers, backpackers saw the smallest drop of 21% compared to the previous year.
Anomaly in quarterly numbers of backpackers
At first glance, the Q4 numbers for both 2020 and 2019 appear almost same with a slight increase in 2020. But MachEye uncovers an anomaly behind backpacker numbers: Q4 2020 registered the highest increase of 103% in backpackers compared to the same quarter last year.
Anomaly in seasonal preference of backpackers
Any traditional BI software can find that the summer months are anomalous for number of backpackers during July and August, as they are way above the monthly average. The same applies to declining visitors in the winter months. But MachEye factors in seasonality and actually highlights the months of April, May, and September as anomalies.
In April and May 2020, the number of backpackers was 92% lower than the overall average.
September 2020 saw a surge in backpackers, which was 89.4% higher than 2020 monthly average, but also higher compared to the same month in the previous year. Careful observation shows that, despite COVID-19, more people ventured into nature.
Highest growth in backpacking in the Northeast region
MachEye also analyzed the data along geographical dimensions. It found that in 2020 the Northeast region experienced the highest growth in backpackers at 57.1% compared to the previous year.
Highest growth in visitors at Saguaro national park
Although national parks experienced an average decline of 35.5% in visitors in 2020, Saguaro National Park visitors grew by 58.4% compared to the previous year.
Through these click-less AI insights, MachEye answers not only the questions users ask but also the ones they may not have thought to ask. Businesses associated with backpackers like outdoor gear companies can use these insights to plan ahead and prepare for changing demands.
Has COVID-19 changed camping trends? Will people prefer more outdoor activities like backpacking in 2021? Only time will tell. But we can surely prepare better for the future by identifying emerging patterns and uncovering deep insights with advanced BI solutions like MachEye.