What is Decision Intelligence? How important is it for data leaders today?
by Ramesh Panuganty, Founder & CEO
What is Decision Intelligence? How important is it for data leaders today?
by Ramesh Panuganty, Founder & CEO
When it comes to making business decisions, decision makers depend heavily on their experience, domain knowledge, and sometimes gut instinct, to interpret business situations. They identify all available options, evaluate each of them carefully, take calculated risks, and make a decision that may have a big impact on their business. In high-pressure make-or-break situations, where there is no time for extensive manual analysis, decision intelligence is just the superpower decision makers need to make fast, confident, and data-driven decisions.
What is Decision Intelligence? How important is it for data leaders today??
Decision intelligence is an advanced insight discovery process that uses natural language processing, automation, ML and AI to distill data into actionable intelligence quickly and accurately. Decision intelligence democratizes analytics and empowers anyone to ask questions, without much efforts and time delays. It explains "what" happened, uncover "why" it happened, and recommend "how" to proceed in the best possible manner. With decision intelligence, decision makers can get focused guidance and targeted recommendations to make decisions quickly.
Why do businesses need decision intelligence today?
In their top strategic technology trends for 2022, Gartner predicts:
By 2023, more than a third of large organizations will have analysts practicing decision intelligence.
Decision intelligence has the potential to support, automate, and augment decision-making skills. Businesses need to adopt decision intelligence for the following reasons:
To support human decision-making: At times, errors and biases can creep in human decisions, especially in high-pressure situations. This is simply due to our limited capability to process data. Decision intelligence provides the much required support by enhancing our decision-making abilities and reducing possibilities of human errors.
To overcome analysis paralysis: When there is too much data and too many insights, it can get confusing to select the right course of action. This inability to pick the right option often results in analysis paralysis among decision makers, leading to hasty and faulty decisions. Decision intelligence helps overcome analysis paralysis by presenting the most suitable option upfront, without overwhelming decision makers.
To automate time-consuming processes: Routine processes of evaluating and eliminating options can become time-consuming and iterative. By automating several steps in the data analysis process, decision intelligence can accelerate insight discovery and improve speed of decision
4 key benefits of decision intelligence
Decision intelligence enables organizations to be prepared for taking swift actions in any business situation, ranging from preventing losses to converting opportunities.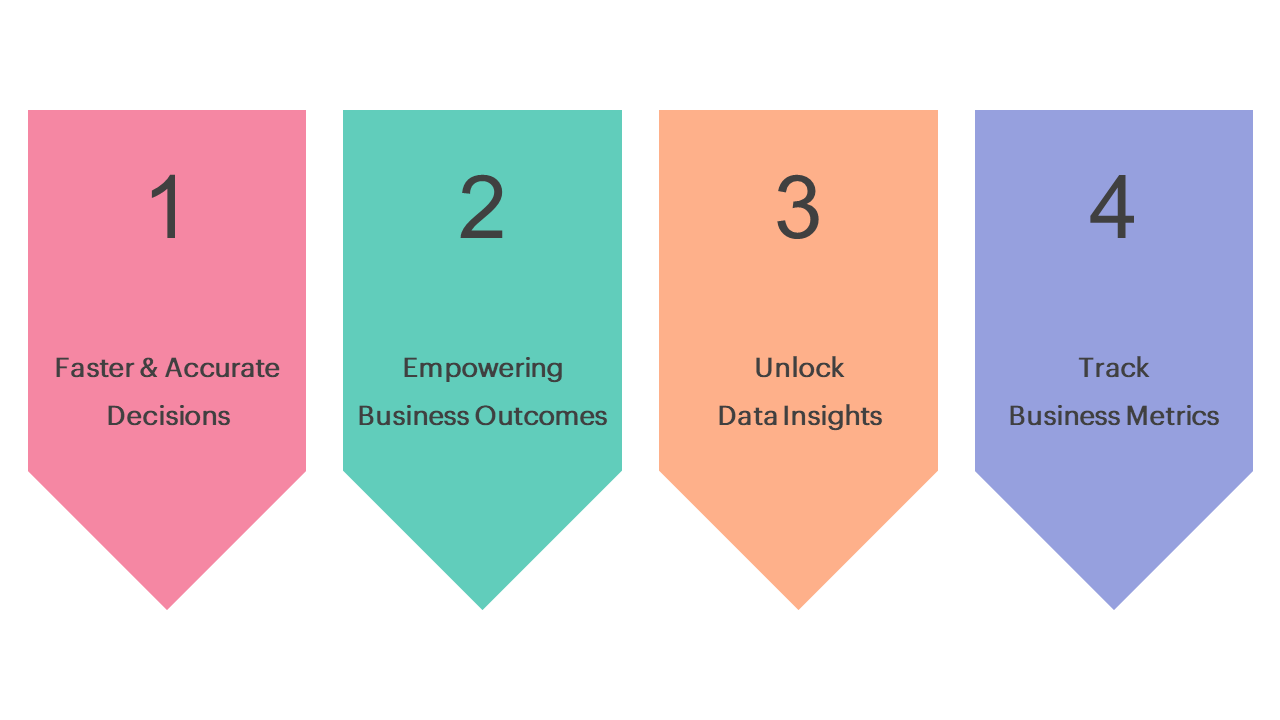 Faster & Accurate Decisions: Decision intelligence takes the busywork and guesswork out of decision making. While making users self-reliant with self-service analytics, decision intelligence also ensures that users are guided with accurate insights to reach their decisions faster. It becomes a trusted personal business companion to every decision maker.
Empowering Business Outcomes: Decision intelligence removes the complexities and inefficiencies of dealing with mundane, backend tasks. By automating several processes, bridging silos, and reducing analytics queues, it frees users from worrying about data and helps them focus on the outcomes that impact their business.
Unlock Data Insights: As businesses grow and responsibilities widen, decision makes find it difficult to track all business drivers simultaneously, identify all variables, and monitor industry trends. Decision intelligence provides the ability to handle volumes of data and scale analysis smoothly to match the requirements. This ensures a sustainable flow of insights and support for decision making.
Track Business Metrics: Decision intelligence gives users the control on what they want to track. It separates the most critical business metrics from the vanity one, thus reducing clutter of insights and providing a more focused path towards achieving business objectives.
Example of decision intelligence in a business scenario
Lisa, a regional sales manager for a fast food outlet, is reviewing the sales of last 5 years. Now that's a lot of data, involving multiple products, outlets, cities, and campaigns. But using a decision intelligence platform, Lisa's the insights discovery starts with a simple question "show me sales of last 5 years". Here's how the decision intelligence platform helps Lisa identify the key drivers and make a well-informed decision.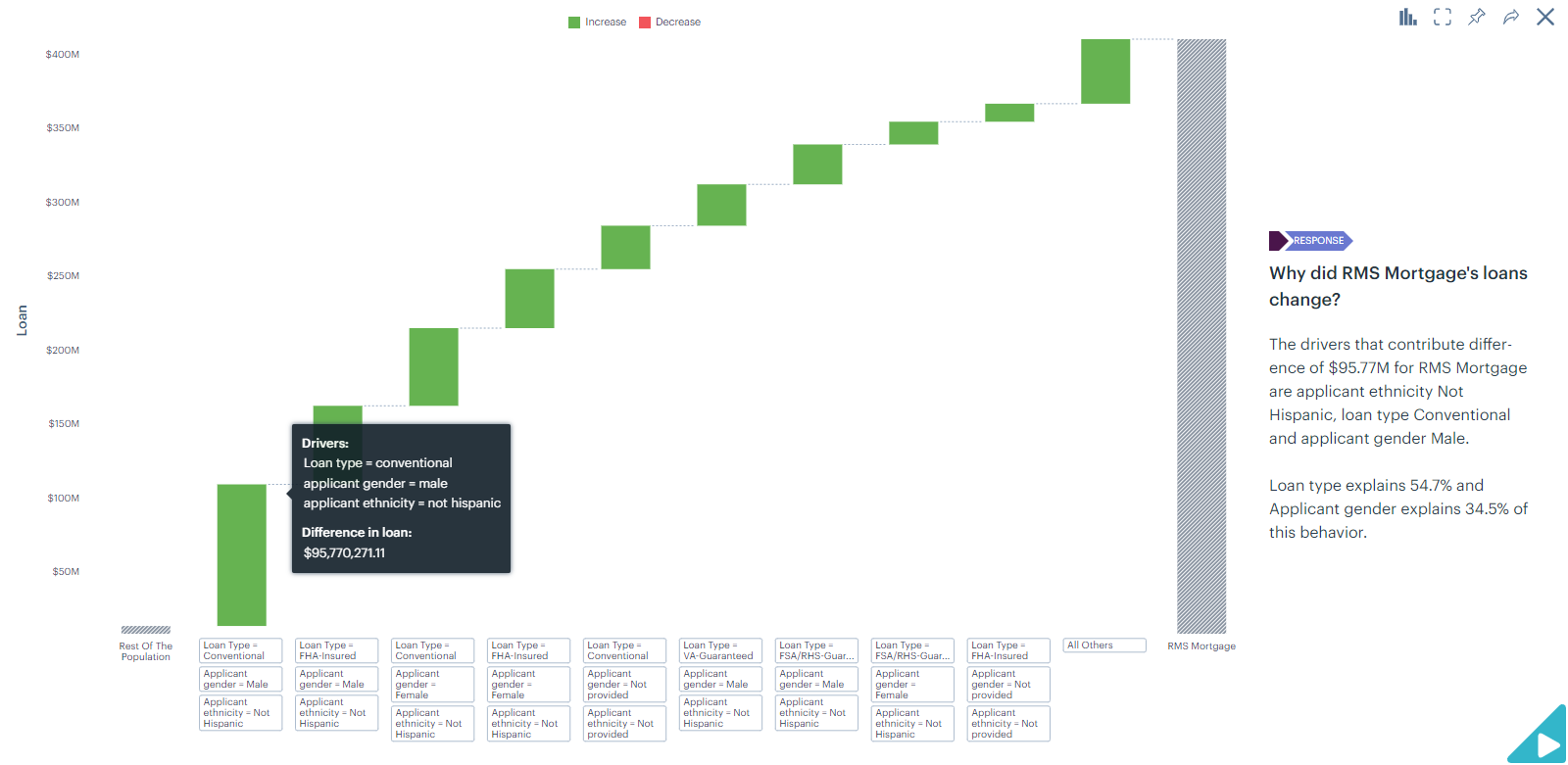 The What
The average growth in sales is 30over the last 5 years, but it has increased by almost 50 in the post-COVID years of 2021 and 2022.
Here's where traditional BI would have left off Lisa to figure out the Why and the How for herself by either learning and trying out several combinations of SQL queries or pursuing an analyst to block time for her analysis.
The Why
Related insights show that the city-wise sales appear fairly distributed, but the outlet-wise comparison reveals outstanding performance by a few outlets as compared to others, even in the same city.
Now empowered with decision intelligence, Lisa drills down into outlet-wise sales to investigate the significant difference.
The How
The decision intelligence platform reveals the outlets which were of type drive-thru were the ones that performed better than the dine-in ones in 2021 and 2022, as compared to the per-COVID years.
Lisa just got an important insight into the changing customer preferences. The COVID era had conditioned customers to continue social distancing and to expect high hygiene standards. They preferred the drive-thru outlets for minimal contact and faster service.
Using decision intelligence, Lisa now can take important decisions on:
Opening more drive-thru outlets: These outlets are preferred by customers, require less staff, and incur less operational overheads, making them more profitable than the dine-in outlets.
Catering better to the drive-thru customer segment: These customers will need clear interactions, better spill-proof packaging, and a smooth order placing experience.
Using a decision intelligence platform, Lisa, our regional sales manager, can now convert every opportunity confidently and focus resources on profitable ventures effectively.
How to get started with decision intelligence?
Decision intelligence helps business users make well-informed decisions based on data. Decisions can be routine or unconventional, low impact or high impact, and regular or business critical. It is important to identify which decisions require support or automation from decision intelligence. Here's how to get started with applying decision intelligence in your business activities.
Write down your organization's metrics across all departments: It is always good to have a clear idea of the metrics you want to monitor for decision intelligence. Each department has its own metrics, which are further aligned with the organization's objectives. When starting with a new technology, it is better to start small with a few well-defined metrics. Once you ensure that data is available for those metrics, you can start tracking and receiving decision intelligence. Then you can expand to track more business metrics.
List your data stack for every business function: Different departments use different stacks for collecting and storing data. A thorough inventory of data stacks brings clear visibility on available data and uncovers silos while integrating all data in the decision intelligence platform. It's also essential to check the data for any missing or incorrect values, inconsistencies, and biases. Incorrect data leads to incorrect insights and incorrect decisions. So verifying the quality of data must be done to get accurate decision intelligence.
Know where AI could help you simplify redundant tasks: Decision intelligence provides the convenience to automate tasks that are time-consuming, iterative, and routine. AI can identify patterns, run regular scenarios, and estimate outcomes much faster than humans. So you can categorize tasks that could be handled by AI and free up time to focus your attention and resources on actual business.
Choose a decision intelligence platform that suits your business needs: now that you have laid the groundwork, it's time to evaluate a decision intelligence platform. Look for abilities such as easy data integrations, customizable machine learning models, configurable AI algorithms, and natural language processing. Additionally, a simple and intuitive user interface that enables users to interact with data naturally ensures that they can do their own analysis without learning new skills or depending on analysts.
Final Thoughts
A decision intelligence platform that offers an intuitive search interface and personalized insights helps every decision maker across organizations to make fast and confident decisions. Decision intelligence platforms like MachEye augment the decision-making process and drives better action. With its intelligent search, actionable insights, and interactive audio-visuals, MachEye makes the insight discovery process not only faster but also engaging and interactive. It acts as your trusted personal business companion who finds performs root cause analysis, identifies key drivers, and explains the what-why-how of business events in just a single search. With actionable recommendations and upfront business headlines, MachEye guides you in every step of decision making.
Start Your Free Trial